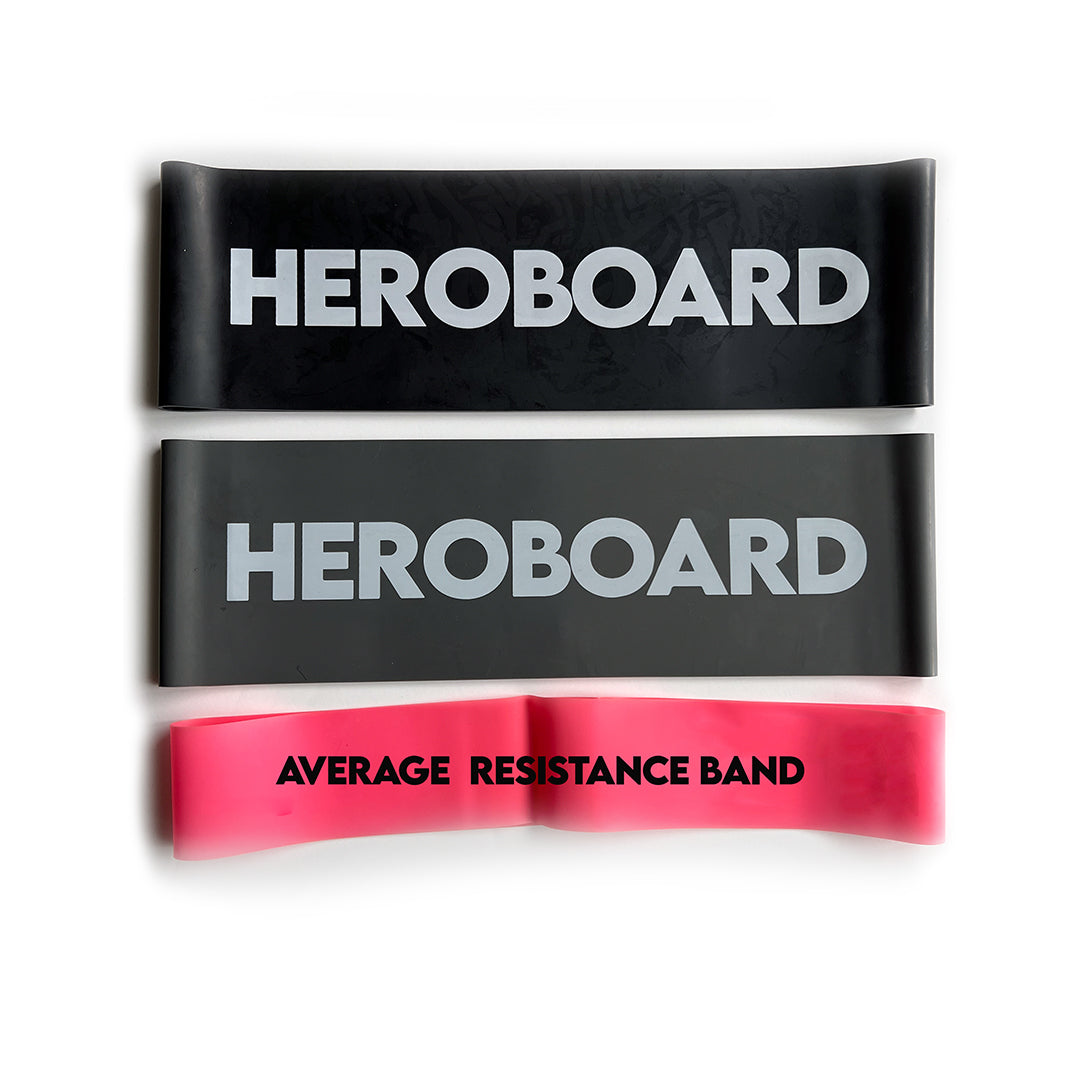 BLACK CUSTOM XTRA HEAVY BAND
---
LEVEL 10 RESISTANCE: Ideal for activating your glutes and entire lower body

STRENGTHEN: Legs, buttocks and hips

Cues athletes to force knees out while squatting and deadlifting

HEAVY DUTY: Premium quality 

THIS BAND IS NOT FOR BEGINNERS
Each purchase comes with:

HEROBOARD
Custom-shaped foam exercise pad
Resistance band that can be easily attached to the board's hook to take your exercises to the next level
Drawstring bag for portability
Poster with QR codes linking to instructional videos
Weekly Instructional workout videos posted online weekly via the HEROBOARD's website, Instagram, and YouTube
Built with a low center of gravity to ensure stability. The HEROBOARD won't flip over when you use it.
Board is angled by 3° for a raised heel which eases your form to protect your knees, as well as help bringing the board back for eccentric exercises
Built with large, quality wheels for an incredibly smooth movement and no hesitation during a change in direction
Custom-shaped foam exercise pad for maximum comfort
Dimensions are 19l x 13w x 6h (in) and weight is 10 lbs
Shipping and Return Policy

For a limited time, we are offering Free Shipping on all US Orders.

We have a 30-day return policy. If for whatever reason you are not satisfied with your HEROBOARD, return it with no questions asked.
Get Started Today
Mobile & Sustainable Fitness Habits
Small enough to fit in a suitcase but mighty enough to leave you sore for days. HEROBOARD can handle all types of terrain so you can work out in a gym, a hotel room, or at your campsite. It's created to provide stability when you need it and a challenge when you're ready.
This product has no reviews yet.
New Videos Posted Weekly
Workouts On Demand
Our Team has curated an entire workout library that is free with every purchase!
No trainer? No problem. HEROBOARD is the solution! Get a total body workout with this single, convenient fitness tool
This is an incredible innovation in the fitness equipment space, HEROBOARD is one of the most versatile tools in the marketplace.